Day of the Dead
Souls of the dead visit the living
the living leave offers for the souls
---



---
Day of the Dead dates 1st November and 2nd November

What once took the Aztecs more than two weeks to celebrate, was reduced to just 2 days by the Spanish. The pre-Columbian tradition of acknowledging the dead with feasting and ceremony, was merged with the Catholic tradition of All Saints day and All Souls day which are observed on November 1 and 2.
---
Calaveras or skulls and skeletons
---
Calaveras feature in both the art and in the food of Dia de los Muertos. Colorful skulls, and skeletons dressed as public figures, such as well-known politicians, abound at this time.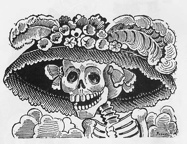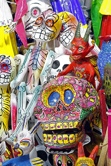 ---
---
Altar - Ofrenda
---
To make an altar to a loved one, set up a table with any of the following:
Photos of the loved one or of the virgin Mary
Candles
Marigolds
A cross
Tequila or other liquor
Sugar skulls
My husband's Tia Angelita makes an altar like this every year for her dead husband. Candles on every surface throughout the house create an intimate atmosphere, and framed catholic saints look on as the family share pan de muerto. And every year Tia Angelita leaves a full bottle of Tequila out for her husband's soul, and every year the bottle mysteriously becomes empty...
Here is an altar we made for our friend Pip who sadly left us in 2007. We used marigolds to spell out her name.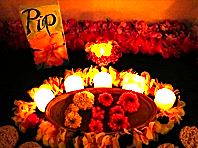 ---



---
Return from Day of the Dead to Mexican holidays