Chili, chilli, or chillie
- chilled by the confusion?
Which is the correct term? None actually.
In Spanish the word is chile. The problem is that that's also the name of a country. I tend to go with chili myself. No confusion. A 'll' is pronounced as a 'y' sound in Spanish so I'd avoid using it. The people of Chile were rather clever at avoiding the confusion altogether. They call it 'ajo' in their country.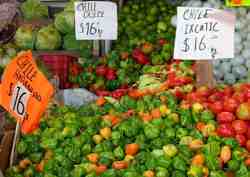 Is the hot stuff used in all of Latin America?
No, definitely not. I often hear people speak of spicy food as being a Latino thing. It is NOT a generic Latino thing, but it is most definitely a Mexican thing.
Here are two examples from Latin America..
Argentina – Thanks to the Italian influence in Argentina, they eat a lot of pasta. In Buenas Aires Fidel asked for chile with a meal and the Argentinians said 'What's that?'
Cuba – I love Cuba. The 50's cars, the beaches and sun, mojitos and son, the cult of Castro and Che. But food in Cuba is dire. The 2 flavours in Cuba are sugar or salt. Not much variety there. Maybe one day Obama will lift the inhumane trade-embargo on Cuba, and finally let these people get some hot spices (along with an i-pod or 2).


Return from Chili to Mexican cooking

Go to the Mexico-Culture-Guide homepage