Salma Hayek
---
The Mexican beauty who's not just a pretty face
---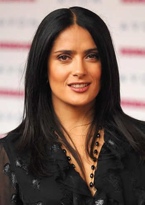 Born 2 September 1966 in Coatzacoalcos, state of Veracruz, Mexico
Salma Hayek is possibly the first to come to mind when Westerners think of famous Mexicans, as she is in so many films and advertising campaigns. She is famous for her beauty, and for her acting and directing talent. She was the first Latin actress to be nominated for an Oscar after starring in (& co-producing) the beautiful film 'Frida' back in 2002. She is often placed among the world's most beautiful, and was included in People magazine's most beautiful people.
Best movies starring the beautiful actress:
Once Upon a Time in Mexico
2003 sequel to Desperado. Less of Salma, and more gimmicks and gratuitous fight scenes, but still a good watch.
Frida
2002 Salma was the producer of this film, in which she plays the role of artist Frida Kahlo with plenty of conviction. The film itself pushed the icon status of Kahlo to new heights.
From Dusk til Dawn
1996 Memorable for the extremely saucy snake-dance scene (at the Titty-Twister truckers bar run by zombies). A very popular film with the boys!!
Desperado
1995 Gorgeous adventure love story with Antonio Banderas as male lead.



Photo Credit: Richard Prins
Return from Salma Hayek to Famous People of Mexico
Go to the Mexico-Culture-Guide homepage