Julio Cesar Chavez
---
Boxing champ
---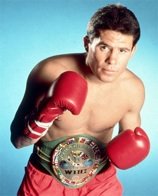 Mexican born, raised, and residing. Retired boxing champ Julio Cesar Chavez deserves his place on our list of famous people of Mexico, as he is considered one of the greatest boxers of all time.
Born: 1962 in the city of Obregon, state of Sonora, Mexico
Background: During his childhood he lived in an abandoned railroad car with his five sisters and four brothers
Professional: turned pro at the age of 18, in 1980
Best years of boxing: 1985-1987
Achievements: 'Fighter of the Year' 1990 (named so by Ring Magazine), WBC super featherweight title, WBC light welterweight title
Career statistics: 108 wins, 6 losses, 2 draws & 87 knockout wins. Fought 37 title fights.
Retirement: January 2006
Sons: Omar and Julio Jr. are boxers too, Julio being the more successful of the two.
Return from Julio Cesar Chavez to Famous People of Mexico
Go to the Mexico-Culture-Guide homepage